Mark Meredith resigns from Stoke-on-Trent City Council cabinet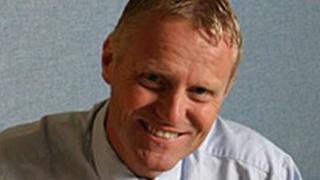 A councillor has resigned from Stoke-on-Trent City Council's cabinet after documents about a controversial plan to close a leisure centre were released.
A BBC investigation in 2011 found that Mark Meredith was involved in a private deal to close the council-run Dimensions Splash Pool in Burslem.
Mr Meredith said he made the decision to resign after new documents about the deal were published on Monday.
He said he had acted appropriately and any speculation was "unhelpful."
In 2009, Mr Meredith was the elected mayor of Stoke-on-Trent.
He was involved in a deal to close Dimensions and pay the nearby privately-owned Waterworld leisure centre a subsidy so that people could swim there at discounted prices.
Documents, including a number of emails, showed that he had a series of private meetings with the owner of Waterworld, Mo Chaudry.
The plan was eventually scrapped after a public outcry but the row resulted in a £44,000 legal bill for the council after Mr Chaudry claimed the authority had reneged on the deal.
It also prompted a police investigation but no charges were brought and the case was dropped.
'Right decision'
Stoke-on-Trent City Council released detailed documents from its own internal investigation on Monday, following a Freedom of Information request by the BBC.
Mr Meredith subsequently released what he said were draft submissions he had made to the inquiry.
He said: "I was not able to speak fully on this issue previously both because a legal process was still being progressed and there were clear legal reasons preventing me from speaking.
"I have always acted appropriately but I do feel however that this on-going speculation is unhelpful and detracting from our ambition for our city and its people."
He said he had resigned from his job as cabinet member for economic development, inward investment, sport and leisure but would continue in his role as ward councillor for Birches Head and Central Forest Park.
He said: "I have made this decision to put the city first before any self interest and I will continue to support the leader and the council in their bid to make Stoke-on-Trent a great working city."
Stoke-on-Trent City Council said responsibility for Mr Meredith's portfolio would be managed in the interim by council leader Mohammed Pervez and deputy leader Paul Shotton.
Mr Pervez said "I believe Mark has made the right decision to stand down from the cabinet and I would like to thank Mark for all his hard work in the cabinet over the last two years."