Stafford Hospital: 15,000 people sign petition to save services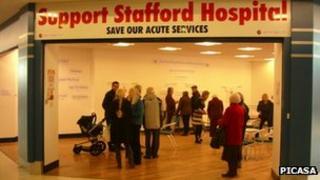 More than 15,000 people have signed a petition against plans to downgrade services at Stafford Hospital.
Under proposals drawn up for the NHS regulator, Monitor, the hospital could lose its maternity unit, intensive care unit and A&E department.
The Support Stafford Hospital group said hundreds of people were coming to their campaign shop each day to sign the petition.
The group is organising a protest march through the town on 20 April.
The Contingency Planning Team (CPT) report to Monitor said staffing levels at Stafford and Cannock Chase hospitals were not sufficient to meet required standards in the long term, given the current range of services and number of patients.
It said some services could be provided at the University Hospital of North Staffordshire, The Royal Wolverhampton Hospital Trust and Walsall Healthcare NHS Trust instead.
Monitor announced in February that the administration process for the Mid Staffordshire NHS Trust, which controls Stafford Hospital, had begun.