Stoke-on-Trent's £15m bus station opened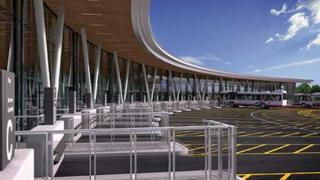 A £15m bus station has been opened in Stoke-on-Trent as part of the first phase of a £350m regeneration plan.
The station, built on the site of the former John Street car park, has 22 waiting bays for buses.
Changes have also been made to one-way streets, bus stop locations and traffic flow around the city to coincide with the station opening.
It has taken a total of two years to build and was completed six months behind schedule.
The old bus station and surrounding buildings are being demolished to make way for a new shopping complex.
Stoke-on-Trent City Council leader, Mohammed Pervez, said the opening marked "the start of a journey to transform our city centre".
The bus station will operate from 05:00 to midnight each day.
Roads including Old Hall Street and Percy Street have been cut off to traffic, while others such as Stafford Street, Bethesda Street and parts of John Street have become dedicated bus lanes.