Snow drifts and fallen trees close roads on Staffordshire moorlands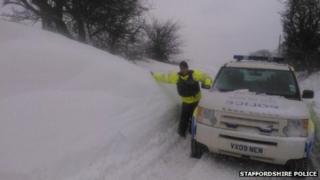 Snow and high winds led to drifts up to 14ft (4m) high on the Staffordshire moorlands, bringing down trees and closing roads.
Staffordshire County Council said abandoned vehicles created problems for their gritters.
Mike Maryon, head of highways, asked drivers to stay at home if they could because they were "just making things worse for us".
Alton Towers and Drayton Manor theme parks were both closed.
'Dangerous concoction'
Staffordshire County Council said the A53 running to Derbyshire and the A523 to Ashbourne had been closed.
Several trees have been brought down on the A51 Rugeley-to-Lichfield road, a spokesman added.
Stoke on Trent City Council said their gritters had made three runs overnight on the gritting network of 275km (170 miles) of roads.
Cheshire East Council said around 4 inches (10cm) of snow fell overnight and the combination of drifting and back ice was making "a dangerous concoction under car wheels".