Stafford Hospital nurse fit to practise after twins morphine error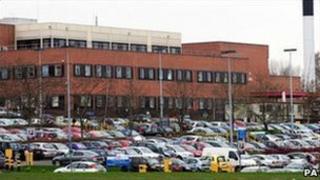 A senior nurse has been found fit to continue practising by a disciplinary hearing examining the deaths of twin brothers at Stafford Hospital.
The babies, who were born 13 weeks early in October 2010, died two days after being given a morphine overdose.
Joanne Thompson denied failing to take the clinical lead of nursing care in relation to the drug's administration.
A more junior nurse, helped by a junior doctor, administered the drug, the Nursing and Midwifery Council heard.
The disciplinary hearing was told this was against hospital protocol which states the procedure should be carried out by two registered nurses.
The NMC hearing found this charge against Mrs Thompson was not proved.
The babies received 600 and 850 micrograms of morphine respectively, instead of 50 to 100 micrograms, the panel was told.
Mrs Thompson, who was a senior staff nurse at Stafford Hospital's special baby care unit at the time, admitted a series of charges before the fitness to practise hearing in London.
She admitted not being present throughout the whole morphine administration process and that she did not check it was properly diluted.
'No misconduct'
Mrs Thompson also admitted not calling for medical help to check the drug's administration.
In its written ruling, the NMC panel, led by chairman Graham Park, said Mrs Thompson was a "highly competent nurse" whose main concern had been to save the lives of the twins.
"In the panel's judgment its finding of no misconduct in these particular circumstances, would not undermine the public confidence in the nursing profession and the standards expected of nurses."
The panel also said it was impressed by the numerous and consistently very positive references provided by the nurse's employers and colleagues.
Last May an inquest found the morphine overdose had "played a part" in the deaths of Alfie and Harry McQuillin, who were born at 27 weeks on 30 October 2010.
In a narrative verdict, Staffordshire coroner Andrew Haigh said their deaths were caused by "complications in extreme prematurity" but he could not say they died from natural causes.