Keele University law students help 'legal aid gap'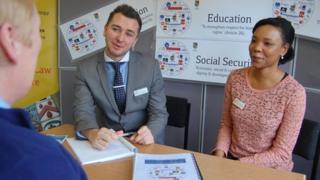 Cuts in legal aid, which come in from April, will result in fewer people having access to legal advice on issues such as housing, family, and benefits.
The UK government said the cuts would save more than £400m a year, but critics claim the changes will hit the most vulnerable hardest.
One idea being trialled to help people get assistance is a community legal outreach companion scheme (CLOCK) run by Keele University's law school.
Twenty students are working with legal firms and partner groups including the Citizens Advice Bureau and homeless charity, Brighter Futures.
The CLOCK group also has a desk at Hanley Combined Court.
Third year law student, Carlo Carrieri, 21, said: "When you see the state that some people are in, desperately in need of help, we can't legally give them advice-proper but we can help them fill in forms and with note taking.
"The fact we're students isn't seen as a problem, they're open to help we can offer and we know we're providing them something they don't have access to."
Andre Thompson, 21, has been working with the CAB on benefits and housing eviction cases.
"I was sitting in on a woman's benefit assessment meeting and, although I couldn't ask questions for her specifically, I could take notes and give her some support which she was grateful for," he said.
"Personally I feel the practicalities of what we're doing helps to ingrain what we've been taught much better than just being in the classroom - once you do it for real you remember."
'Not a substitute'
The CAB in Stoke-on-Trent said it currently helps about 1,500 people with complex cases under legal aid, including more than 700 debt cases and about 400 welfare benefits appeal cases.
Jude Hawes, of the CAB, said: "One of the ways we're having to respond to losing legal aid, and therefore losing services, is to find different roles for volunteers just to help us with the mountain of work that is coming our way.
"The students are not giving legal advice because they're not fully qualified, we are really clear about that, but any kind of assistance is helpful."
A woman, who wanted to remain anonymous, said she had found the help of the legal companions "invaluable" while she dealt with a divorce.
She said: "Without this scheme I would've been on my own, legally speaking."
"The young women that worked with me on this gave me a sounding board and someone to speak to on a general basis - someone that had a brief understanding of my circumstances and was there solely to help me."
The legal companion scheme has the backing of the UK Law Society and Westminster University, while Leicester De Montfort Law School has expressed interest in running the programme.
Steve Kirwan, secretary of the North Staffordshire Law Society, warned that the scheme was "not a substitute for legal aid."
He said: "It is going some way to filling a gap. If the government figures are correct then there are going to be more than half a million people each year who will no longer receive legal advice.
"But what people need to understand is that while it will help some of my clients, what it won't do is completely fill that legal aid gap, and it's an enormous gap."