Stoke-on-Trent City Council reverses New Vic Theatre funding plans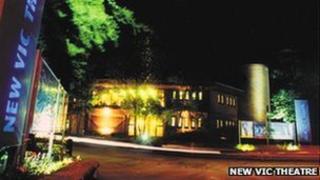 One of Staffordshire's most popular theatres is to face smaller cuts than expected.
New Vic Theatre in Newcastle-under-Lyme was due to see its funding of almost £70,000 from Stoke-on-Trent City Council cut altogether by 2017.
The local authority said its subsidy would be reduced to £45,000 this year, but would not be cut further over the next two years.
The theatre said it depended on local funding to attract national grants.
It also receives direct funding from Newcastle Borough Council and Staffordshire Council as well as about £900,000 from Arts Council England.
Including charitable grants, John Morton from the New Vic said public money accounted for about 50% of the venue's income and described the council's latest decision as "good news".
He said the theatre has been increasing ticket sales and other income, including restaurant and bar revenue, over the last three years to help offset the impact of grant cuts.
Jobs threat
He said the venue's 150,000 visitors generated almost £1m in ticket sales and brought in about £11m to the local economy.
Despite that, Mr Morton said a drop in public funding would have an impact on the theatre's work, including possible cuts to its 60 staff.
He added many of those were employed on part-time or short-term contacts.
Stoke-on-Trent councillor Mark Meredith said the decision to maintain funding for the theatre recognised its contribution to the local economy and the valuable work it did with schools and communities.
Last month the Labour-run local authority approved £21m of cuts to its 2013-14 budget.
Newcastle Borough Council said its current £97,620 subsidy to the theatre was expected to remain the same next year.
Staffordshire County Council said it would spend £189,000 a year on the theatre until at least 2015.