Stafford Hospital: Mothers protest over maternity plans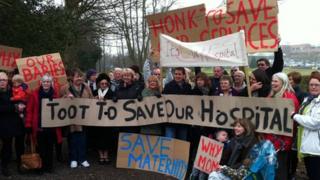 About 60 people have held a protest outside Stafford Hospital against plans to close maternity wards.
A report to health regulator Monitor has said the service "is not clinically sustainable".
It recommends that babies should be delivered at the University Hospital of North Staffordshire or at a unit run by Royal Wolverhampton Hospital Trust.
Campaigner Cheryl Porter said: "Today is the first day of a stand to say we need services for our community."
Ms Porter, who runs the Support Stafford Hospital campaign group, stayed in the hospital for a month after one of two babies she had there was premature.
She said: "My husband was coming every day to see me, and I can't imagine if a family had to go through that, knowing that they would have to travel an extra 20 miles to Stoke or Wolverhampton."
'Need for change'
Michelle Jankowski, 30, from Rugeley, said she was protesting because services at the hospital were "desperately needed".
She said: "Only three months ago when I had my daughter, the hospital saved my life.
"I was bleeding severely and I can't thank those nurses and doctors enough because [without it] I wouldn't be here with my daughter today.
"We need all the support we can get."
About 2,000 babies are born every year at Stafford Hospital.
The Contingency Planning Team (CPT) report to Monitor said staffing levels at Stafford and Cannock Chase hospitals were not sufficient to meet required standards in the long term given the current range of services and number of patients.
The recommendations suggested Stafford Hospital could also lose some Accident and Emergency (A&E) services and paediatric treatment.
Dr David Bennett, chief executive of Monitor, said the aim was to ensure local patients "get good quality services in the longer term".
The Conservative MP for Stafford, Jeremy Lefroy, said he would be meeting with the health minister, Dan Poulter, to voice his opposition.
He said: "I recognise the need for change to ensure that the hospital becomes clinically and financially viable, but the changes proposed by the CPT are not the right solution."
Last week Monitor announced the administrations process for the Mid Staffordshire NHS Trust, which controls Stafford Hospital, was to begin.