Stafford and Cannock hospitals' services 'unsustainable'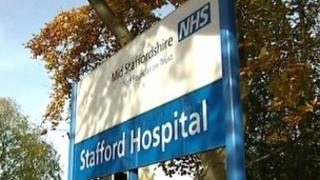 Services provided at hospitals run by Mid Staffordshire NHS Foundation Trust are "not clinically sustainable", health experts have warned.
Recommendations that Stafford Hospital and Cannock Chase Hospital should be downgraded have been made in a report for regulator Monitor.
Some services should be carried out by neighbouring trusts, the report said.
They include maternity care as well as some Accident and Emergency (A&E) and paediatric treatment.
The report said one-in-five patients could be sent elsewhere.
The Contingency Planning Team (CPT) told Monitor staffing levels at the two hospitals were not sufficient to meet required standards in the long term given the current range of services and number of patients.
The CPT has proposed two smaller hospitals are retained at Stafford and Cannock to provide some urgent care, speciality out-patient services and care beds for the elderly.
A&E services are due to be downgraded, with the report suggesting half of emergency cases could be dealt with at other hospitals.
Blue light transfers would also be affected by the proposals.
'Long-term quality services'
It said other services could be provided at University Hospital of North Staffordshire, The Royal Wolverhampton Hospitals and Walsall Healthcare NHS Trust.
Dr David Bennett, chief executive of Monitor, said the aim was to ensure local patients "get good-quality services in the longer term".
Monitor has warned the Mid Staffordshire Trust faces being dissolved and said it would be up to special administrators, if appointed, to develop final proposals.
Conservative MP for Cannock Chase, Aidan Burley, said it was important hospital services remained in the area.
He said the Monitor recommendations were "a major turnaround" from the former Mid Staffordshire NHS Trust board's approach, which saw "our local hospital poorly managed, under-utilised and virtually forgotten about".
"However, I am aware that there remain a number of issues that need to be determined by the Trust Special Administrator, and I will be speaking with them as a matter of priority once they are in place," he added.
The report was issued on the same day NHS chief executive Sir David Nicholson faced a grilling from MPs over his role in the Stafford Hospital scandal.
Sir David was head of the health authority that oversaw the hospital for 10 months between 2005 and 2006.
He told the committee: "During that period, across the NHS as a whole, patients were not the centre of the way the system operated."