Stafford Hospital nurse 'refused to help lift patient'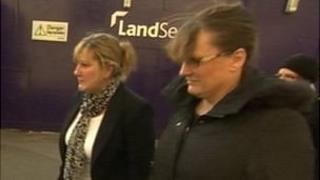 A senior nurse at Stafford Hospital refused to help lift a seriously ill elderly patient from a wheelchair on to a bed, a tribunal has heard.
The hearing was told sister Tracy White also called the woman, known as Patient B, "a naughty little monkey" for not taking her medication.
The patient died a day after being admitted to A&E in May 2007.
Ms White and another nurse, Sharon Turner deny a series of misconduct charges.
Former A&E staff nurse Helene Donnelly told the Nursing and Midwifery Council tribunal at the Old Bailey that Tracy White had refused to lift the patient from a wheelchair.
She also claimed Ms White then told a junior doctor to discharge Patient B because she was going to "breach waiting time targets."
Patient B was taken to a nursing home but was readmitted the next day, when she died of a pulmonary oedema.
'Victims of management'
Helene Donnelly said Tracy White was not to blame for the patient's death but she said the woman had been given "a very uncared-for and undignified last 24 hours."
"I feel this is because of the pressure placed on nurses and junior doctors by the nurse in charge at the time, who was sister White," she told the tribunal.
Also giving evidence, Katherine Kelly, a staff nurse and later sister in A&E, said the two nurses were "victims of hospital management," which at the time had a "bullying culture".
"Nurses were punished by the trust if they spent more time with the patients, if that resulted in them breaching the four-hour target," Ms Kelly said.
Ms Kelly told the tribunal that in October 2007 Ms Turner had advised nurse Donnelly to lie about a breach time.
The two senior sisters are accused of falsifying hospital data and instructing others to do the same.
They also face charges of making inappropriate comments about patients and staff, and transferring patients before they had been properly assessed.
Ms Kelly said Ms Turner had a dry sense of humour and comments could be "not politically correct," but with no intended malice.
The pair both deny the allegations, which if upheld could lead to them being struck off.
The fitness-to-practise hearing is expected to last up to two weeks.