Stoke-on-Trent teachers strike over appraisals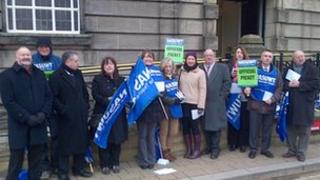 Teachers at a pupil support centre in Stoke-on-Trent have staged the first of five one-day strikes over what they describe as a "punitive" appraisal system.
The NASUWT union said all five specialist teachers, based at Mount Education Support Centre, were picketing at the Civic Centre.
The council said cover was in place and classes were not affected on Wednesday.
Strikes are also due to take place on Thursday and 5 to 7 March.
Teachers involved in the action provide specialist advice and support for visually and hearing impaired pupils in mainstream schools across the area.
General secretary of the union Chris Keates said the new appraisal system adopted at the support centre created unnecessary workload and undermined teachers.
'No disadvantage'
Brian Cookson, treasurer for the union and from Staffordshire, said staff wanted an appraisal that was "supportive and helped them to develop", rather than the "punitive" policy adopted by the local authority.
Eleanor Brazil, the city council's interim director of children's services, said: "The council introduced a new performance management policy for teachers in July 2012 which was adopted by the majority of schools and accepted by all other teachers employed by the council's inclusion services, other than the five involved in this action.
"The council is striving to ensure that there is continuity of service across the city and to ensure that no child is disadvantaged by this action."
Mr Cookson said in most cases it was up to schools to agree their own performance management policy, although these specialist teachers were employed directly through the council.
"I would challenge assertively that these five teachers are out of step," he added.
The union said it hoped to resolve the issue with the council in the coming weeks.