Night patrols in wildlife crime crackdown in Staffordshire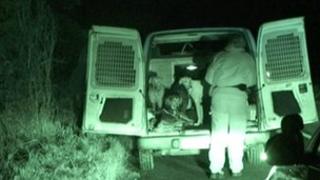 Four men suspected of hunting illegally have been questioned as part of a crackdown on wildlife crime in the Staffordshire Moorlands.
The men were suspected of "lamping", or hunting with bright lights, in the Meerbrook area and equipment was seized, Staffordshire Police said.
They were interviewed voluntarily and further inquiries will take place.
The late-night patrols followed a reported increase in deer poaching in the county.
More than 100 vehicles were checked on the police computer as part of the operation in and around Leek on Wednesday and Thursday.
It led to 33 vehicles being stopped for further checks and eight being tested for red diesel.
The force said officers carried out the patrols with colleagues from the RSPCA and the Environment Agency.
During the operation, two other men were arrested and cautioned for possession of the drug mephedrone, or M-cat, and two were given warnings for possession of cannabis.