Stafford Hospital scandal: PM calls for 'accountability'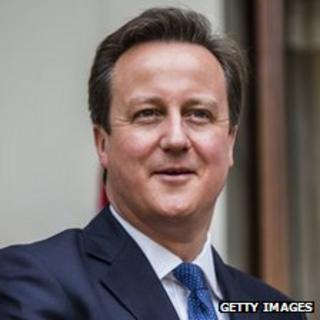 David Cameron has called for "proper accountability" for the failings at Stafford Hospital.
Neglect and abuse at the hospital led to hundreds of unnecessary deaths between 2005 and 2008, the Francis Report found.
Speaking during his visit to India, the prime minister said: "There hasn't been [accountability] in this case and we need to put it right."
Police are studying the report to see whether any charges will be brought.
Mr Cameron said: "One of the important points about the Mid-Staffordshire inquiry is to make sure, when a failure like this takes place, there is proper accountability."
'Not acceptable'
He said it was not the job of the prime minister to order prosecutions, but that "huge amounts of information" had been made available to police and prosecuting authorities.
Mr Cameron said: "In the report, you can see exactly what happened to the people who were involved.
"Some of them were allowed to retire, some were allowed to move within the health service. There wasn't proper accountability, there wasn't proper consequences and that is not acceptable."
The prime minister said one consequence of the Francis Report would be a "more accountable" health service in the future.
Staffordshire Police said last week it would be reviewing information in the report with prosecutors "in order to identify whether there is any potential for criminal charges".
After the publication of the report, Mid Staffordshire NHS Foundation Trust said it accepted its findings and that actions had already been taken to improve care.