Paramedic suspended over Julie Bailey Facebook comments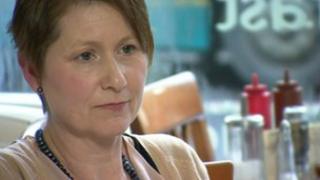 A paramedic has been suspended after abusive comments were posted online about a Stafford hospital campaigner.
Murph Guest, from West Midlands Ambulance Service, apparently wrote on Facebook that he hoped Julie Bailey suffered "a life-threatening illness".
In a statement, the service confirmed that comments made on Facebook regarding Ms Bailey were posted by a member of staff.
The trust said an internal investigation would now take place.
"The trust is taking the matter seriously and has suspended the member of staff from work whilst a formal internal investigation is carried out," a spokeswoman said.
Staffordshire Police is conducting its own inquiry which the service is co-operating with, she added.
The force said it had been made aware of the Facebook comment and would be making contact direct with Ms Bailey.
Ms Bailey started the Cure the NHS campaign group in 2007 following the death of her mother, Bella, 86, at Stafford Hospital.
'Ill-informed'
The posts were made on the 'We support the front line staff at Stafford Hospital' Facebook group.
One said: "Julie Bailey, I hope you suffer a life threatening illness at night where you have to travel furthur [sic] than you should do because your local hospital is closed (your fault)."
Another post threatened her with physical violence.
Mr Guest has been unavailable for comment and his Facebook profile has been deleted.
Ms Bailey claimed on Wednesday the comments highlighted problems with the culture among some NHS staff.
"It is a minority of people who really are ill-informed," she said. "We're not responsible for closing any part of the hospital, it's the people who failed our loved ones who would be ultimately responsible.
"There are some fantastic staff there at Stafford, but unfortunately they have been let down by some colleagues."