Paramedic investigated for Julie Bailey Facebook comments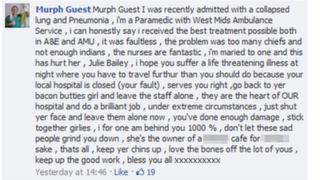 An investigation has begun after a paramedic allegedly posted abusive comments online about the Stafford hospital campaigner Julie Bailey.
Murph Guest from West Midlands Ambulance Service apparently wrote on a Facebook forum that he hoped Ms Bailey suffered "a life threatening illness".
The service said the incident was being taken extremely seriously and it was carrying out an investigation.
Ms Bailey started the Cure the NHS campaign group in 2007.
It followed the death of her mother, Bella, 86, at Stafford Hospital.
The posts were made on the 'We support the front line staff at Stafford Hospital' Facebook group.
It said: "Julie Bailey, I hope you suffer a life threatening illness at night where you have to travel furthur [sic] than you should do because your local hospital is closed (your fault)."
In another entry he wrote: "This woman was singlehandedly to blame for all this media pressure and negative comments about the hospital....she couldn't care less, money springs to mind."
He also threatened her with physical violence in another post.
'Criticism for five years'
Ms Bailey said she had not seen the comments but said she would ignore them.
She said: "Negative comments like this, from people who don't understand what we've been through, just aren't helpful.
"There is always going to be criticism, we've had criticism for five years, and we don't listen to any of it because if we did we wouldn't be where we are now striving to improve patient care across the NHS."
In a statement, the West Midlands Ambulance Service said it was "shocked by the comments that have been made on Facebook which have reportedly been made by a member of staff" and it was treating the incident extremely seriously.
"An investigation has been launched to establish if indeed it is a member of staff that has posted these comments," it said.
"The trust is disappointed that anyone would write such comments, especially on a subject as serious as Staffordshire Hospital."
Mr Guest has been unavailable for comment and his Facebook profile has been deleted.