Coal mining may return to Staffordshire after 12 years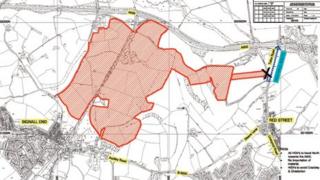 Coal mining could be returning to north Staffordshire for the first time in 12 years.
UK Coal will submit a planning application to Staffordshire County Council to excavate 450,000 tonnes from Bignall End.
The proposal is to operate an opencast mine for two-and-a-half years.
The company said residents may be "pleasantly surprised" by the operations, though local consultations have already met opposition.
David Green, the area planning manager for UK Coal, said: "The nearest one to this one is Huntington Lane in Telford.
"I genuinely think people down there have been surprised by how well controlled the site is and the fact that the impacts aren't as bad as they thought they were going to be.
"I think people will be pleasantly surprised by it."
'Listen to the people'
Councillor Ann Beech, the cabinet member for environment at Newcastle Borough Council, said she was worried the proposal was too close to residential areas and could be the start of a larger development.
She said: "They say they're not going to move on to Great Oak but will that come eventually?
"I think the county council planning department needs to sit, take stock and listen to the people."
The first community consultation was held by UK Coal on Monday and two further events will be held later this week.
UK Coal said the area was a "good quality reserve" that could be worked in "a very environmentally acceptable way".
Opencast mining removes surface soil and rock to excavate the coal beneath the surface before the original soil and rock is replaced.
About 30% of the electricity used in the UK is generated from coal-fired power stations.
UK Coal said its proposals would create up to 60 jobs.
The company plans to apply for planning permission to mine 200 acres (0.3sqm) in April.