Meaford Nursery closed after flooding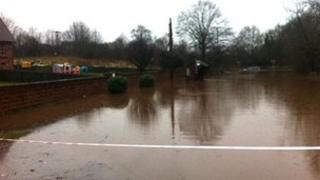 Children and staff have been evacuated from a nursery in Staffordshire after the road outside it was flooded.
Firefighters said 30 children were moved from Meaford Day nursery on Meaford Road, near the A34 junction in Stone.
The A34 southbound was closed at the A51 and Meaford Road was blocked between the A34 and Tittensor Road.
Adele Cheadle from the nursery said: "It's a regular problem with the canal up the road, it keeps overflowing."
"The water was up over the top of car wheels, and it comes at such a force down the road, it's dangerous," she added.
"I want the county council, the Environment Agency and the river and canals trust to get together and sort the root of this problem out, or it's going to keep happening."
The nursery had to cancel its Christmas carol concert, and parents were called to pick up their children from Stone fire station.
Fire crews also had to remove a car which got stuck in flood water on Meaford Road.
Simon Craythorn, from Staffordshire Fire and Rescue service, said the female driver had got out safely.
He said: "We're advising traffic to stay clear of the area because the flood waters are still rising."
Friday's meeting at Uttoxeter racetrack has been abandoned due to a waterlogged track.