Hollybush Inn in Seighford leased by Titanic brewery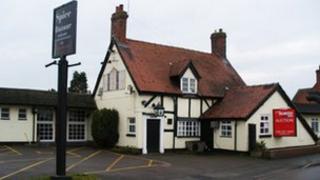 A Staffordshire village pub that was bought by a group of local residents has been leased by a local brewery.
The Grade II-listed Hollybush Inn in Seighford, near Stafford, had previously been an Indian restaurant.
It was bought for £199,000 at auction in March by a company formed by local people, which has now leased it to the Titanic brewery.
Chairman Robert Eld said: "It feels good to achieve our goal of getting a pub for our village community."
He said the group, called the Seighford Pub Company, now had 70 shareholders.
'Ready-made customers'
"The project has brought everyone together," said Mr Eld.
"The shareholders come down here twice a week to work on the pub, doing things like papering, painting and cleaning up.
"I've really enjoyed meeting people who I've seen in the street but never spoken to and now we're all here working together."
Dave Bott, from Titanic brewery, said the company was not renowned for running country pubs but had decided to take the Hollybush on after seeing the enthusiasm of local people.
"I live in the next village along and I became a shareholder before I became the tenant," said Mr Bott.
"I've got to keep 70 shareholders happy but we've all got the same common interest in making sure the place is busy and it's 70 ready-made customers as well."