Legionnaires' disease in Stoke-on-Trent: Four more cases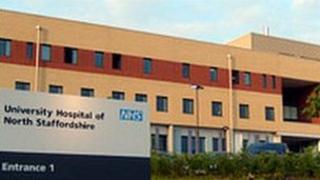 Four more Legionnaires' disease cases have been confirmed in Stoke-on-Trent, taking the total to 15.
The Health Protection Agency said a man in a critical condition had been sent to Glenfield Hospital in Leicester.
Another person in a critical condition was being treated at the University Hospital of North Staffordshire along with 13 other patients.
The agency said those patients, all aged in their late 40s to mid 70s, were in a "stable or improving condition".
Professor Harsh Duggal, director of the Health Protection Agency's health protection unit in Stafford, said he was "not surprised" by the new cases.
"We have sampled and disinfected potential sources of exposure but people can develop symptoms up to two weeks after being exposed to legionella," he said.
The HPA said it was continuing to work with the Health and Safety Executive, the NHS in Stoke and the City Council to try and find the source of the outbreak.
It said the disease was not hospital related and it was safe for patients to attend.