Stafford Hospital Care Quality Commission concerns end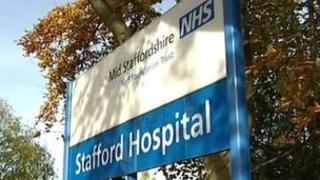 All "essential standards" are being met at Stafford Hospital, a regulator says, three years after a damning Healthcare Commission report.
Mid Staffordshire NHS Foundation Trust said it was "delighted" after the Care Quality Commission (CQC) lifted all of its concerns around the hospital.
The 2009 Healthcare Commission report revealed "appalling standards of care" and higher-than-expected death rates.
A 139-day public inquiry which followed ended in December 2011.
During visits in June this year the CQC reviewed areas where it had "previously registered moderate and minor concerns", the trust said.
Chief executive Lyn Hill-Tout said: "We have been confident for some time that we had made all the improvements which were needed.
"We know that we still don't get it right every time for every patient but this report is confirmation that we are definitely well on the way."
In its report, the CQC said the hospital "was meeting all the essential standards of quality".
A final report from public inquiry chairman Robert Francis QC, which is expected to be released in October, will contain recommendations to stop the failings at the trust being repeated elsewhere.
The public inquiry had cost £11.7m by February this year.
Its focus was not on what happened on the wards, or the standards of care, but why none of the dozens of regulators and external bodies spotted there was a problem.