Redundant Remploy workers 'will struggle to find work'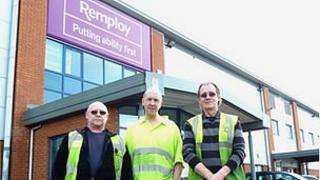 Remploy workers in Staffordshire will struggle to find work when they are made redundant, unions have claimed.
The factory in Trentham, which employs 114 disabled people, is to close along with 26 other sites across the country.
Minister for Disabled People Maria Miller said the factories were not financially viable.
Colin Hanley, the Unite union representative at the factory, said: "Many workers have nowhere else to go, with no chance of finding other work."
He added: "When the factory closes, the isolation these people will feel will be devastating.
"Most of them live on their own and with all the other cutbacks to things like social care they're just going to be stuck at home."
According to the Department for Work and Pensions, the factories lost £68.3m last year.
The 27 factories will close between August and mid-December, with the loss of 1,421 jobs.
Strikes go ahead
Jackie Mayer an account controller at the Trentham factory, said: "Mainstream employers haven't got the knowledge or the time to work with disabled people.
"Some workers also need specialised equipment - chairs, computers, workstations.
"Businesses advertising jobs need employees now and haven't got time to wait for a special chair, which can take up to two months."
"It also costs money, which they may be able to claim back from the government, but in today's climate many employers can't afford to spend the money in the first place."
The factory in Trentham makes street furniture, and components for General Motors and the Staffordshire digger-maker JCB.
JCB said Remploy currently handles £4m-worth of its business annually and there had been "the prospect of that increasing in the future".
It said it was now looking at options for the work done by Remploy to be deployed elsewhere.
Workers at Remploy's 54 factories voted in May to go on strike in protest at the planned closures, and the GMB union has said the strikes will go ahead on 19 and 26 July as planned.
The government has set aside £8m to support workers who are made redundant.