Gareth Bellingham: Parents remember Afghan tour soldier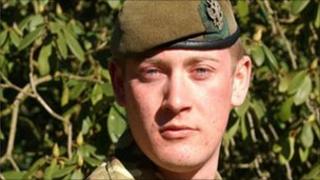 "I hoped after Gareth's death that no other parent would have to go through what we did. Unfortunately they still are and my heart goes out to every single one of them."
When Les Bellingham, 50, from Newcastle-Under-Lyme, heard three soldiers had been shot dead in Afghanistan this week, it brought bad memories of a year ago flooding back.
His own son, Pte Gareth Bellingham, died from a single gunshot wound through the neck in June 2011, while on patrol in Helmand Province.
"I didn't believe for one minute that he wouldn't be coming back, but you have to accept it - although it's the hardest thing in the world," said Mr Bellingham.
"I honestly believed the training that he'd done and with the great scores and marks he got for it, it may sound silly, but I believed he was invincible."
At an inquest into Pte Bellingham's death in January, the coroner ruled he had been unlawfully killed.
'Kindness of strangers'
The 22-year-old soldier, of the 3rd Battalion the Mercian Regiment, was on patrol at about 07:30 local time on 18 June 2011, when an Afghan civilian was injured by an Improvised Explosive Device (IED).
He was called over to help when a group of insurgents opened fire from behind a wall about 250m away, hitting him in the neck, head and arm.
A patrol medic started treatment before the soldier was taken to a medical centre for surgery, where he died two hours later.
Mr Bellingham said: "When MoD officials came to tell us, I thought they were going to say he's been injured and he's on his way back home, that's what I was hoping.
"I couldn't believe it, I must've asked them a dozen times if they were absolutely sure and they just kept telling me it's all checked against his dog tags, his blood group and all that. They promised me there was no mistake."
Hundreds of people lined the streets of Newcastle-under-Lyme in July 2011 to pay respects to Pte Bellingham before his funeral at St George's Church.
"So many people turned out to support him and 99% of them probably didn't even know him," said his stepmother, Kim Bellingham.
"In the build-up to the funeral, we were shopping in one of the supermarkets and talking to one of the girls we knew.
"She was saying how sorry she was when a couple came up and said 'I think everybody in Newcastle wants to shake your hand or give you a hug' and they did. It was the kindness of strangers."
A year on from the funeral, Mr Bellingham says he still feels the pain of his loss every day.
"I can be in a normal conversation with my friends at work and I'll just have to walk off because something triggers you.
"But soldiers past and present, they're fighting for us and we should all be proud of that."