Leek Roundabout protesters are told to leave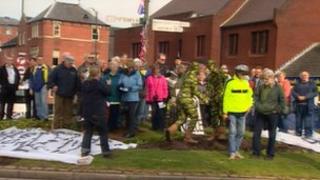 Protesters who are camped at a roundabout in Leek have been given letters by Staffordshire County Council asking them to leave.
They have been there since Monday when work started to remove it.
They claim the £5m plans, which include the removal of two zebra crossings, will make the roads more dangerous.
The council said it wanted to finish the changes in time for Remembrance Day in November and campaigners are delaying those plans.
The authority said some businesses had complained the protest is having an impact on their trade "at a time when they can least afford it".
'Strong local support'
Colleen Savage, who runs Café Clique in Getliffe's Yard, said: "Contractors are trying to keep disruption to a minimum.
"But the fact they have only got a third of the roundabout to remove and they can't remove it because people are on there, it's causing more problems than necessary."
The protesters have published a letter thanking local businesses for their support during the disruption.
Sarah Gayton from the group said there was still "strong local support" for their protest.
"We've had people bringing us flasks of coffee, takeaways, cakes - the majority of people are still behind us.
"Until we are told categorically that those crossing points at Ashbourne Road and Haywood Street are safe for people to cross we're going to have a presence at the roundabout."