The Rivercard hope to gain momentum with new album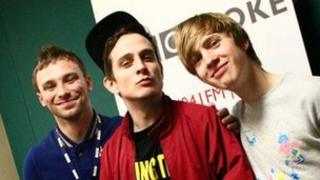 "I write all my lyrics when I'm on tour, cooped up in the back of a van with nine other people so it's probably when I'm at my most miserable."
With a smile as wide as the brim of his baseball cap it's hard to imagine the Rivercard lead singer Chris Smith ever being miserable.
But one listen to his paint-peeling visceral vocal on brand new album, Momentum, you know he has got a distinct way of focusing his anger.
"For any band who's playing a good mix of hard metal music and fast punk rock like us, it's all about being aggressive.
"There is a lot of passion in the songs but it's all about life, people who've done you wrong, done you over."
Opening track Pitfalls stays true to that subject matter, with Smith focusing his bile on people who come out to their concerts just to start fights.
"Hardcore is aggressive but violence is not what it's about. It's open to anybody, that's the beauty of it - it's an outlet for people who don't like pop music."
'Kids go nuts'
Since their inception in 2005, the Stoke-on-Trent five piece have supported many of their heroes including Hatebreed, Defeater and Parkway Drive but are starting to make a name for themselves beyond their home city.
Chris believes this is due to extensive touring which has seen them play hundreds of shows across Europe and the United States.
"Those are the places that hardcore thrives, and there are big touring scenes. When you get over there you're guaranteed sometimes 100 - 150 kids in certain areas.
"They don't get hardcore shows coming through all the time, so when they do, kids will go nuts and they're always really good shows."
But such a busy schedule comes at a financial cost. All five members of the band have taken out personal loans to pay for the tours.
"Our guitarist has got a van driving business so we get a van from him but we literally play for petrol money. In America we even played people's garages, you've just got to get your name out there in any way shape or form," he said.