Rail workers' memorial at National Memorial Arboretum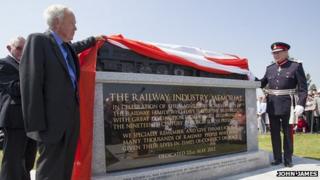 A memorial celebrating the achievements of railway workers over 150 years has been unveiled at the National Memorial Arboretum in Staffordshire.
The carving of a steam engine in black granite rests on top of a plinth, which includes a montage of images representing the railway industry.
The British Transport Pensioners Federation (BTPF) raised about £50,000 for the memorial.
It has been built just off the arboretum's Millennium Way.
The memorial at the Alrewas site is of a Class 8F steam engine and measures about 2.7m (9ft) wide by 2.3m (7.5ft) high.
BTPF, a voluntary organisation for retired railway staff in the UK, said the memorial was partly in memory of those killed in railway construction and those who have lost their lives in accidents.
Vice president Sam Reed said: "We want this to be a place where people can come and reflect in quiet solitude and pay their respects, whether it be to loved ones, friends or simply the unsung heroes from across the industry."
Lord Lieutenant of Staffordshire Ian Dudson and former British Rail chairman Sir Bob Reid unveiled and dedicated the memorial.