New A&E department opens at Staffordshire hospital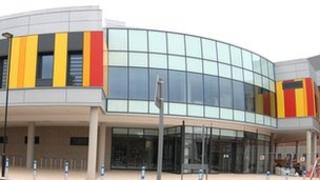 A larger accident and emergency department has opened at a Staffordshire hospital.
At 02:00 GMT, ambulances started to use the new A&E unit at the University Hospital of North Staffordshire (UHNS).
Based at the hospital's city general site, it is expected to treat more than 100,000 patients each year.
It will be known as the Emergency Centre and replaces the cramped A&E, which was built at the nearby Royal Infirmary complex nearly 50 years ago.
The building, with its distinctive design of red, yellow, orange and black rectangles, occupies half of one of the six floors of the new £400m hospital.
"It's modern, it's state-of-the-art, so hopefully people who come here will have a better experience that they've had previously," said Magnus Harrison, the hospital's clinical director for emergency care.
Larger cubicles
The chief executive at UHNS, Julia Bridgewater, said that it would house more than 200 staff and have about 12 or 13 A&E consultants.
"It is a bit like moving into a new house, there will be things that won't quite go to plan," said Ms Bridgewater.
"But I think it's about having the right level of staffing and experts on the ground to make sure that we can handle it.
"These facilities have to serve, not only the local people, but a wider population for many, many years."
Hospital officials said the new facilities were "much larger" and the main treatment area would have 31 cubicles - an increase of 12.
Every cubicle has about a third more space than before.
"There is much better separation between the areas where patients will be seen and treated," said medical director Robert Courtney Harris.
"That's always been a problem with the old A&E which was built some years ago to cope with many fewer attendances."
The centre also has its own imaging equipment - CT scanners, MRI scanners and X-ray machines - rather than sharing it with the rest of the hospital.
A major trauma centre - one of four such centres in the West Midlands - was unveiled at the hospital on Monday.