Unison condemns doctors plans for Stafford Hospital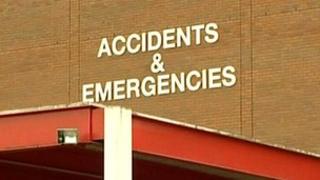 A trade union representing hospital staff has condemned plans to downgrade services at Stafford Hospital.
In a leaked letter, Stafford and Surrounds and Cannock Chase Clinical Commissioning Groups (CCG) proposed downgrading the A&E department.
It also outlined plans to reduce the range of procedures which take place at the hospital.
Ray Salmon, from the Unison union, said the proposals would "cause chaos" across the West Midlands.
"The general thrust of the letter is to downgrade Stafford Hospital from a district hospital to effectively a cottage hospital," he said.
"You can't just shut down a particular department and put all the services into the community."
He added that taking Stafford Hospital's resources out of the system would put other hospitals in the area under pressure.
'Vigorously defend'
Under the NHS Health bill, which has yet to become legislation, the CCG would take control of commissioning from 2013.
The group would manage the budget for the area and decide what services to commission from a range of providers, including hospitals.
In the letter, sent to the chief executive of the Staffordshire Group of Primary Care Trusts, the CCG also said it did not believe the hospital could meet its savings targets.
Mr Salmon said Unison would "vigorously defend" any downgrading of services at the hospital.
Any significant changes in the provision of healthcare services would require consultation.
In a statement, the Director of Finance at Mid Staffordshire NHS Foundation Trust Darren Cattell said: "None of the proposals outlined in the letter have been agreed by our board and we stress that no decisions have been made."