Youth orchestra lead honour for Birmingham teenager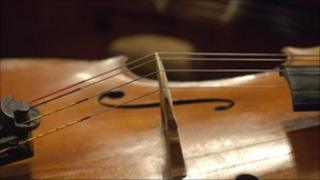 A schoolboy from Birmingham will become one of the youngest musicians to lead the National Youth Orchestra (NYO) when he takes on the role in 2012.
Violinist Roberto Ruisi, 15, started playing with the prestigious youth orchestra when he was 13.
The King Edward's School pupil said he was "overwhelmed" when he heard that he had been chosen to lead the orchestra made up of about 165 musicians.
John Claughton, from the school, said it was an "extraordinary achievement".
The NYO, which was founded in 1948, is made up of musicians aged between 13 and 19 from across Great Britain.
Roberto said: "It was an honour and a thrill to be chosen as a principal last year, and we play with so many other great players, so to be the leader is beyond anything I could have expected."
'Amazing player'
The orchestra's communications manager, James Murphy, said: "We've known Robbie for a couple of years and he's a magnificent musician and a great personality.
"He's one of the youngest people to be leader of the orchestra."
Mr Claughton, Chief Master at King Edward's School, described it as an "extraordinary achievement".
He said Roberto was an "amazing player" and the news meant a lot to everybody in the school.
"We're thrilled, music is such an important part of the school's life and we celebrate it a great deal," Mr Claughton added.
Roberto will take up his new role in December.