Stafford bosses outline changes to running of hospital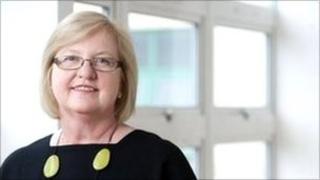 Managers at Stafford Hospital have unveiled plans to change the way the hospital is run.
Over the next three years, they predict they will be treating 17% fewer patients, resulting in the loss of 165 beds, and staff cuts of around 20%.
It follows the coalition government's Spending Review, which is looking for £20bn of efficiency savings in the NHS over the next four years.
Mid Staffordshire Trust also has to find ways to plug its £11m funding gap.
Stafford Hospital will be part of a national drive to treat more patients with long term conditions in the community rather than in hospital.
Another proposal is to move the majority of emergency surgery to the University Hospital of North Staffordshire, but chief executive Lyn Hill-Tout said any changes would not put patients at risk.
"Mid Staffs, over a number of years, has failed to make its efficiency savings that it's required to do," said Ms Hill-Tout.
"We will be scrutinised, and quite rightly, over this, making sure that we do this in a way that isn't affecting quality of care."
Ms Hill-Tout said that there were no plans to make anyone redundant and hoped that staff numbers would be reduced through natural turnover.
Welcome changes
Dr Steve Brookes, who lectures in health management at Manchester University, said that all hospital trusts were going to have to get used to big changes.
"It's about ensuring that all staff... and the community, understand why these changes are taking place; what they're intending to achieve; but most importantly, saying to all people that the patient must be at the centre of all these changes."
Julie Bailey, who set up the campaign group Cure the NHS, said she welcomed the proposed changes.
She said: "All the evidence [from the public inquiry] suggests that the hospital was not in a position to offer a lot of what it did.
"It should be a district hospital and just stick to the things it does best."
Stafford Hospital is currently the focus of a public inquiry after the Healthcare Commission found "appalling care" at the hospital between 2005 and 2008.