Legal challenge to youth jail restraints gets go-ahead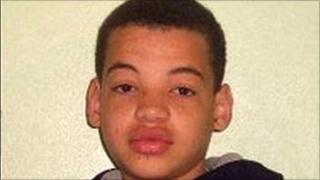 The mother of a Stoke-on-Trent teenager who died after being restrained in custody says she hopes a legal case will help other families get justice.
Fifteen-year-old Gareth Myatt from Abbey Hulton choked to death after being held down by jail staff in 2004.
Children's Rights Alliance for England (Crae) won the first round of a High Court battle to allow thousands of ex-young offenders to seek compensation.
Gareth's mother, Pam Wilton, said she never got justice for her son.
Crae has now been given the go-ahead to challenge the Ministry of Justice to notify children who were restrained in privately-run Secure Training Centres (STCs) that their rights may have been infringed.
Details of restraint methods in such centres emerged during earlier inquests into the deaths of Gareth Myatt and Adam Rickwood, 14, from Burnley, Lancashire, who both died in custody.
An inquest in January heard that Adam was the youngest person to die in British custody when he hanged himself aged 14 at Hassockfield Secure Training Centre, County Durham, in 2004 after a controversial "nose distraction" technique was used on him.
The inquest jury found Adam was unlawfully restrained and hurt in a way that contributed to his taking his own life.
'Piece missing'
Gareth Myatt died after he became unable to breathe while being restrained at Rainsbrook Secure Training Centre in Northamptonshire.
A verdict of accidental death was recorded at Gareth's inquest in 2007 but the technique that staff used to hold him has since been banned.
"There's always a piece missing in the family," said Ms Wilton. "Every Christmas and birthday, it's just like our lives stopped when we lost Gareth.
"If other people can get justice for their children... the government should give them justice. Because I didn't feel like I had justice for Gareth for what they did to him."
Potential victims
The High Court heard that hundreds of children held in Government-run secure centres are likely to have been wrongly restrained during an "unlawful regime" which operated for many years.
Lawyers for Crae told the court that restraint, including so-called "distraction techniques", were used unlawfully at four STCs between 1998 and 2008.
Richard Hermer QC said that during that period, methods were sometimes used to maintain "good order and discipline", when they could legally only be used in circumstances where life was threatened.
Granting permission for a judicial review of the case, Mr Justice Collins said it was "arguable" that the Youth Justice Board, acting on the Secretary of State's behalf, has a positive "obligation" to inform potential victims of their rights.
A Ministry of Justice spokesperson said: "Children in custody are some of the most vulnerable young people in society and their safety is our highest priority.
"A range of improvements in the use of restraint across the youth secure estate have been made in recent years. We are considering our response to this decision."