Inquiry told there could be 'another Stafford Hospital'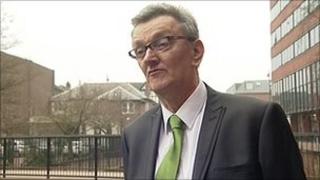 A public inquiry called after a higher than expected number of deaths at Stafford Hospital, has been told a similar situation could reoccur.
The inquiry is looking at the role of NHS regulatory bodies following the deaths in 2005 to 2008.
The chief executive of the trust that runs Stafford Hospital said he had no confidence regulators would be able to prevent a similar situation arising.
Antony Sumara said he thought the regulation system needed overhauling.
Mr Sumara, who joined Mid Staffordshire NHS Trust on 15 July 2009 said senior manager "didn't have a clue what they were doing" just days after he joined.
'No clinical leadership'
He said that in spite of the increased scrutiny his hospitals were now under, a similar situation might not be spotted.
"Would I have confidence that given the lessons from Mid Staffs that regulators are in a better position now to spot a Mid Staffs? And my response would be no," he said.
Giving evidence to the inquiry on Wednesday he said he also agreed with the national clinical director for urgent and emergency care, that clinical leadership for elderly patient care was still an issue at the trust.
Professor Sir George Alberti said in his report in December 2010: "There appears to be no clinical leadership and this requires urgent attention," the inquiry heard.
Mr Sumara said: "I don't accept there's been no progress.
"I think we've got a safe and caring service now but overall to create a really good-quality service for the elderly, you've got to have really good clinical leaders and by that I mean doctors, and at the moment I don't think we've got that."