'Concerns' remain at Stafford hospital, says campaigner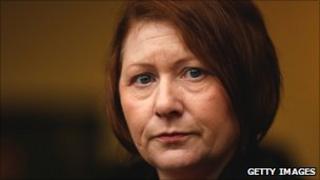 A campaigner whose mother died at a hospital criticised for poor levels of care says she still has "huge concerns" about patient treatment.
Julie Bailey set up Cure the NHS after her mother, Bella, died at Stafford Hospital in 2007.
She appeared before the public inquiry into the higher-than-expected number of deaths at the hospital between 2005 and 2008.
Ms Bailey said her group still gets "very worrying complaints" about care.
She set up the group with other relatives of patients who had died at the hospital.
They have been campaigning for a public inquiry after several previous hearings into the number of deaths were held in private.
The coalition government ordered that a public inquiry take place.
Ms Bailey told the hearing in Stafford on Tuesday that she still had concerns about care for vulnerable and elderly patients.
"I believe things have improved a lot at the hospital," she said.
"We're getting far less complaints but we are still getting very worrying complaints coming through to us.
"We have still got huge concerns about what is going on at the hospital regarding vulnerable and elderly patients."
Until the NHS welcomes complaints, only then can things be improved, she added.
On Monday she told the hearing about how her mother collapsed on a ward after being left without her oxygen supply.
She described the ward as "bedlam".
Robert Francis QC, inquiry chairman, has said he estimates the hearing to continue until at least next summer.