Sheffield Half Marathon runners offered charity refund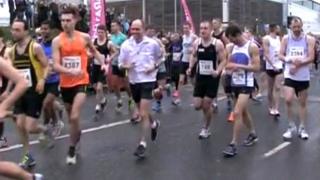 Money earmarked for charities in Sheffield from the proceeds of a cancelled half marathon will instead be used to refund those due to take part.
Sheffield Half Marathon was abandoned on 6 April due to a lack of water but many of the 4,100 runners waiting at the start line ran the race anyway.
Organisers Sheffield Marathon Ltd said refunds would be made from race proceeds meant for ten city charities.
Recipients should consider donating to those charities, a spokesman said.
'Feel guilty'
Sheffield Marathon Ltd had earlier said no refunds would be given.
Race participant Richard Hayes said he was "shocked" by the announcement.
"They say you can have a refund but make you feel guilty due to taking it out of the charity fund," he said.
"Most people when they read that, are not going to ask for a refund."
The race, which has been run annually for 33 years, was called off after organisers said they had been "let down" by a company due to supply water along the route.
Following its cancellation, chaotic scenes ensued as some runners abandoned the race while others ran the course anyway.
'Goodwill gesture'
Originally, organisers refused to offer refunds as infrastructure still had to be paid for and race rules stated the fee would not be returned.
But in a statement, Sheffield Marathon Ltd chairman Robert Jackson, said race participants could now apply by letter, for a refund of their £24-£26 entry fee.
The refund was "a gesture of goodwill" and was "without any admission of liability", Mr Jackson said.
If requests for refunds exceeded the cash available, "proportionate refunds" would be made, he added.
"This will, of course, mean this money will not be available to give to our charities."
Sheffield Marathon Ltd said it was "reviewing options" for the event in 2015.