Elderly woman freed from car after police chase collision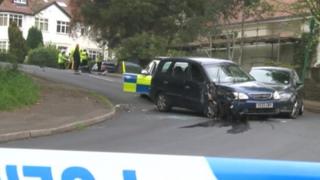 An elderly woman has been seriously injured after her car was struck by a vehicle involved in a police chase.
The crash happened at 09:50 BST on Knowle Lane in the west of Sheffield, when a blue Kia collided with the silver Peugeot she was driving.
Insp Craig Clifton, of South Yorkshire Police, said officers were looking for the Kia for several days, and had followed it from the Manor area of the city on Wednesday morning.
Two men have been arrested.
Insp Clifton said: "Police patrols spotted the vehicle this morning and attempted to stop it but it failed to stop.
Serious injuries
"As a result, the vehicle came across the junction [where Knowle Lane meets Hoober Avenue and Haugh Lane] and collided with the motorist."
The 82-year-old woman was taken to hospital with serious injuries after being freed by South Yorkshire Fire and Rescue.
Police said the two men in the Kia sustained minor injuries and were also taken to hospital.
The driver was arrested on suspicion of causing serious injury by dangerous driving, failing to stop for police, and theft.
The front-seat passenger has been detained on suspicion of theft.
A South Yorkshire Police spokesperson said the incident had been referred to the force's Professional Standards Department, which has alerted the Independent Police Complaints Commission.