Tata Steel relocation plan threatens 135 Rotherham jobs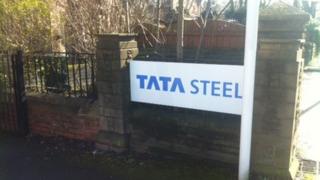 The future of 135 jobs at Tata Steel in Rotherham is in doubt after the firm said it was considering relocating its research and development facility.
A possible move from the Swinden Technology Centre was announced along with the award of £8m of government cash for research.
No decision has been made, but Tata Steel has said it is looking at moving to a site "more aligned" to its needs.
However, Rotherham MP Sarah Champion said she feared it was "a done deal".
The £8m awarded by the Regional Growth Fund (RGF) is to be invested in research into "next-generation steel" for the car, aviation, mining, energy and construction industries.
A company spokesman said: "While the RGF-funded research will initially take place at Tata Steel's Research and Development facility in Rotherham, the company is currently considering where the research will continue over the longer term with a possible relocation to a different UK site more aligned to our customer and technology needs in the future."
He said it was "too early to say what the conclusion of this process will be".
Union concerns
Tata Steel also has a research and development facility at the University of Warwick, in Coventry, and said in February it is "actively exploring how it can expand on those research links".
Labour MP Ms Champion and Steve McCool, from the union Community, which represents staff at Tata in Rotherham, have both voiced their concerns about a move away from South Yorkshire.
Mr McCool, who is due to meet with senior managers at Tata on 13 March, said it would be "foolhardy" for the firm to let the "highly skilled" staff go.
He said a "substantial relocation package" would need to be offered if the staff were to be asked to move.
Ms Champion, who is also due to meet with officials at Tata, said: "It feels like a done deal. When Tata announced the £8m grant they also announced they were looking at other options, so it feels to me as though they have made their minds up."