Sprotbrough Lock drained for gate replacement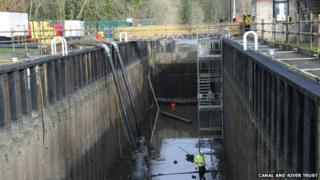 A lock in South Yorkshire has been drained in order to replace its 30-year-old gates.
Work on the 246ft (75m) long lock at Sprotbrough, near Doncaster, is being carried out by the Canal and River Trust.
The new oak gates for the lock on the Sheffield and South Yorkshire Navigation have been made in Wakefield. Each gate weighs about 9.5 tonnes.
The £100,000 scheme to improve the lock should be completed by March.
The work is part of £45m the charity is spending on maintenance and repairs to about 100 locks across the country.
The gates at Sprotbrough were last replaced in the 1980s. The trust said they usually last for between 20 and 25 years.
The new oak gates are about 24ft (7.5m) tall and were made at the Stanley Ferry Workshop in Wakefield.
The charity is hosting an open day on Sunday to enable people to see the work that is being carried out on the lock.
Charlotte Burnett-Wood, principal waterway engineer at the trust, said: "We have temporary dams at each end of the lock to hold the water back whilst the new gates are installed.
"When the public come round they will be able to walk on the bottom of the lock and see for themselves the work we are doing."