Dogs audition for La bohème role at Sheffield City Hall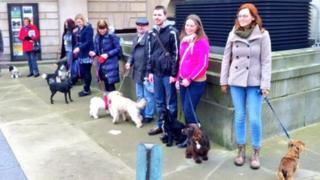 Auditions are taking place to find a dog to feature in a production of the Puccini opera La bohème.
The producers are searching for a pet to play the canine companion of the character Musetta in a performance at Sheffield's City Hall.
About 15 dog owners have applied to take part in the auditions.
Executive producer Sadie Williams said: "It is a really important part of the act because of the reaction the dog gets."
Advertising for the part, production company Ellen Kent Productions said the pet needed to be "well behaved and small... with a good temperament and ideally a love for the spotlight".
'A bit different'
The pet's owner will also feature in the show, appearing as the maid or man servant of Musetta in the cafe scene at the start of act two.
Two animals will be selected from the auditions.
La bohème, which premiered in 1896, tells the story of a group of bohemian artists living in 19th Century Paris and focuses on the tragic love story between poet Rodolfo and seamstress Mimi.
Ms Williams added: "We have had a good response in Sheffield where we have had between 10 and 15 dogs apply.
"Generally we get between about four and eight apply per venue.
"There's no pressure, it is just a walk-on part.
"It is something a bit different that people do not get to do everyday."
La bohème will be performed at Sheffield City Hall on 9 February as part of a 32-date tour of Britain and Ireland.