Sheffield mother describes daughter's death fall from flats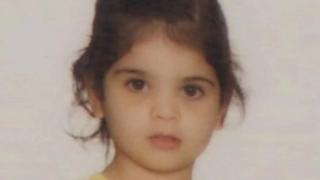 A mother has described the moment she realised her two-year-old daughter had plunged to her death from a block of flats in Sheffield.
Ola Al Fatle told the city's crown court she had searched for Ryaheen Banimuslem after the girl disappeared while playing.
Prosecutors said she fell through a gap after maintenance worker Robert Warner failed to replace a glass panel.
Mr Warner, 45, denies a charge of manslaughter by gross negligence.
Miss Fatle said other residents of the North Bank flats, in Sheffield city centre, called her over and she saw her daughter had fallen from a fourth floor walkway.
Asked by Jonathan Fuller QC, defending, how long her daughter was out her sight, she said: "I didn't let her out of my sight usually."
'Negligent conduct'
She explained, through an interpreter, how Ryaheen was only missing for a very short period of time.
"At the same time I followed," she told the jury.
"I found she was not there straight away. It was very, very short because I followed her."
Earlier, Bryan Cox QC, prosecuting, told the court at the end of the walkway there was a gap in the barrier because a glass panel had been removed by Mr Warner.
"She passed through the gap in the barrier and fell to her death on to the ground immediately below," said Mr Cox.
"The accident was caused by the defendant's negligent conduct.
"He removed and failed to replace the panel from the walkway barrier."
'Gain financially'
Mr Cox said Mr Warner, of Shirehall Crescent, Sheffield, had removed the panel some days before the tragedy in June 2012 to replace another panel which had been smashed in a more prominent position on the barrier.
Mr Cox told the jury how Mr Warner "stood to gain financially" from replacing one panel with another.
The prosecutor said this was because the defendant submitted an invoice to ARIM (Allsop Residential Investment Management), the firm which managed the building, claiming he had bought a new panel.
The trial continues.