Rooke family 'slave' home has windows smashed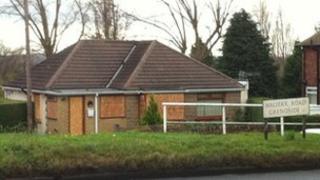 The windows of the home of a family who were jailed for treating a man with learning difficulties as their slave have been smashed.
Police said the damage to the house on Halifax Road in Sheffield happened hours after David Rooke, his wife Donna and son Jamie were jailed on Tuesday.
The three had forced Craig Kinsella to live in a garage. He was subjected to beatings and had to scavenge for food.
Sheffield Crown Court was told he had "become what he called a slave".
South Yorkshire Police said they were investigating an alleged incident of criminal damage at the house, which happened at about 20:45 GMT.
Ice cream seller David Rooke, 44, was jailed for six-and-a-half years after admitting false imprisonment and five counts of causing actual bodily harm.
He was also ordered to pay £15,000 to Mr Kinsella.
Jamie Rooke, 19, pleaded guilty to affray and assault and was sentenced to four-and-a-half years in prison.
Donna Rooke, 40, was jailed for four months for battery.
David Brooke, prosecuting, told the court Mr Kinsella had been living in the garage for about six weeks and had been subjected to violence and intimidation.
He had been attacked with a range of weapons including pickaxe handles, spade handles and a crowbar.