Alan Greaves murder: Anniversary service at site of killing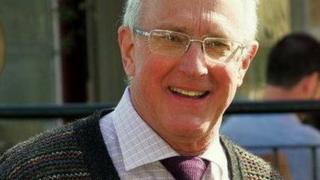 The widow of a murdered church organist invited the community to join her in a service on the street where he was attacked last Christmas Eve.
Alan Greaves, 68, was beaten to death on his way to the midnight service at St Saviour's Church in Sheffield.
Jonathan Bowling and Ashley Foster, both 22, were jailed for the killing.
Mr Greaves' widow Maureen said the service at Greengates Lane, High Green, was at the same time and place her husband was killed.
Posters and leaflets were distributed inviting the people of High Green to attend the event.
Speaking before the service, The vicar of High Green, the Reverend Canon Simon Bessant, said: "We cannot ignore the anniversary of the attack upon Alan, but we don't want to simply hold another memorial event.
"So, rather than have our usual midnight service, we have decided to go out to the place where such a dark and brutal event took place last Christmas Eve.
"We don't believe that darkness should have the last word, so we are going to have a celebration of light at the place and time that Alan died."
Mrs Greaves said: "I can't bear the thought of remembering Alan walking in the darkness alone last Christmas Eve, so having as many people present with me will be a great comfort.
"Celebrating the light of Christ at Christmas time was what Alan was intending to do last year, but never made it. This year we can do that for him.
"As we celebrate light at Christmas, I've asked that we also pray for Jonathan and Ashley, who killed my husband.
"I want them to know that light will always overcome darkness and to find that light for themselves".
Large flaming torches marked the site of the killing and everybody who attended was offered a hand-held candle.
Mr Bessant said: "Whilst we will be remembering Alan, we also want to celebrate. So carol singing and eating and drinking seem to be totally appropriate. I think that this is what Alan would have wanted us to do.
"This tragic story started last Christmas Eve with an act of deep darkness. Exactly a year later we intend to bring it to a conclusion with a blaze of light."