Scunthorpe McDonald's closure 'a blow to town'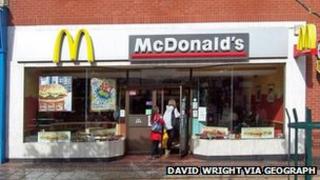 A group set up to boost trade in Scunthorpe has said the area is "at an all time low" as the town's McDonald's restaurant closes after 26 years.
The fast food chain said it had taken the "difficult decision" to close because "trading patterns" had changed in the town.
It is one of a number of big chains to leave the High Street in recent years.
Des Comerford, from Keep Scunthorpe Alive campaign group, said it would have a "negative effect" on footfall.
He said: "Losing McDonald's on a high street in a town like Scunthorpe is going to have a very negative effect in terms of footfall.
"The rest of the businesses in the immediate vicinity feed off McDonald's."
Bob Meadowcroft, McDonald's Scunthorpe franchisee, said all staff at the outlet had been transferred to other restaurants.
He said: "I can assure you that this decision was not taken lightly, especially having traded in the town centre for 26 years.
"However, it has become apparent in recent years that trading patterns in Scunthorpe have changed."
The restaurant will close at the end of the day.