Four men jailed for Sheffield New Year armed attacks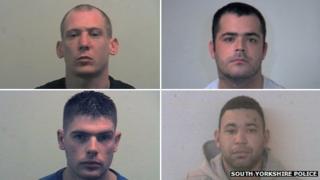 Four men who pleaded guilty to a series of armed attacks which saw a man shot in the stomach have been jailed.
Raymond Colin Swindells, Micah Lewis Paul Thompson, Adam Scott Patrick Harris, all of Westfield, and Stuart Martin Hirst, of Arbourthorne, admitted their parts in the Sheffield attacks.
Sheffield Crown Court heard that the three incidents took place in the Halfway area over the New Year period.
The four received between 27 months and 17 years in prison.
South Yorkshire Police said two of the attacks were linked to drug debts and that the gang forced their way into two houses and threatened the occupants with a shotgun and a knife.
One attack which followed an argument at a house party in Halfway Gardens saw Swindells stab one victim while Hirst shot another in the stomach.
Another attack saw Swindells slash a man's neck and face.
Hirst, 28, of Algar Drive, Arbourthorne, was sentenced to 17 years in prison for one count of assault and three counts of possession of a firearm with intent to cause fear of violence.
Swindells, 32, of Shortbrook Drive in Westfield, admitted two counts of assault, one count of possession of a firearm with intent to cause fear of violence and one count of affray and was sentenced to 10 years in prison.
Thompson, 25, of Westfield Southway, Westfield, admitted two counts of affray and was given a 44 month jail term, while Harris, also 25, of Challoner Green, Westfield, was sentenced to 27 months' imprisonment after pleading guilty to a count of affray.