Rotherham councillor Jahangir Akhtar cleared over claims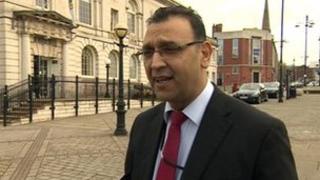 A senior councillor has resumed his post after being cleared over claims he knew of a relationship between a girl in care and a suspected child abuser.
Jahangir Akhtar stepped down temporarily as deputy leader of Rotherham Council in August.
It followed the publication in The Times newspaper of a woman's account of being allowed contact with the alleged abuser from 1999, when she was aged 14.
South Yorkshire Police confirmed it would not be taking the matter further.
Mr Akhtar said he was now considering whether to take legal action against The Times.
He said he had received a letter from the Chief Constable of South Yorkshire David Crompton which said officers had interviewed a number of witnesses but none had provided any evidence to support the allegation.
'Scurrilous allegations'
The Labour councillor told BBC Radio Sheffield: "I would not want anyone to go through what I've been through, it's been absolutely horrendous.
"I'm a little bit disappointed in the amount of time it has taken but I'm pleased that the police carried out a thorough investigation.
"They have covered every angle and the letter I have had from the chief constable is very unambiguous.
"I have always maintained absolute innocence of the scurrilous allegations made in The Times article."
Mr Akhtar stepped aside after The Times reported that he was related to the 14-year-old girl's alleged abuser and was aware of their relationship.
She was one of four women who said they planned to sue Rotherham Council for "systematic failures to protect them from sexual abuse by predatory men" when they were children.
The newspaper said social services became aware before the relationship ended that the 24-year-old man was part of a ring of men suspected of abusing more than 40 young teenagers in Rotherham.
The article stated that by June 2000, both police and social services knew the teenager, who had been placed in emergency foster care, was in a sexual relationship with the man.
A spokeswoman for the newspaper said: "The police investigation into Mr Akhtar was carried out at the request of Rotherham Council.
"The Times did not accuse Mr Akhtar of committing a criminal offence.
"The article was an accurate report on a public interest matter following an investigation which highlighted failures by Rotherham Council to adequately protect children in its care."
Rotherham Council chief executive Martin Kimber said: "South Yorkshire Police have confirmed that the investigation has found no evidence to support the reported allegations, and will not be taking any further action.
"We would like to thank South Yorkshire Police for carrying out a thorough investigation and setting out their position in clear terms."