Lower Don Valley businesses to vote on flood defences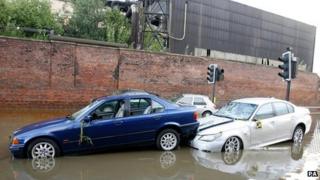 Businesses have been asked to vote on proposals that they pay £1.4m towards a major flood defence scheme.
Hundreds of properties in Sheffield's Lower Don Valley were damaged when the River Don flooded in 2007.
Most of the £16m cost of flood walls, flood gates and repairs to existing defences will come from Sheffield City Council and the government.
But Sheffield Chamber of Commerce said the project would not go ahead without a contribution from local firms.
The chamber has balloted 268 companies on plans to set up a Business Improvement District (BID), which would mean firms would make payments based on the rateable value of their property.
The chamber said that 60% of businesses would pay less than £2,500 over five years, with small firms with a rateable value less than £12,000 exempt.
'Important decision'
The flooding in South Yorkshire in June 2007 claimed two lives and caused millions of pounds worth of damage.
Plans for the defences along 5 miles (8km) of the river, from Sheffield centre to Blackburn Brook near to the M1, have been submitted by the city council.
If permission for the scheme is granted and funds are secured, work will start next year and is expected to be complete by 2015.
Richard Wright, executive director of Sheffield Chamber of Commerce, said: "The Lower Don Valley is a critical economic area of the city and the damage from the floods was catastrophic and took several years for businesses to recover from.
"This is an important project and an important decision for business to make."
Businesses have until December 13 to respond to the ballot, with a majority yes vote needed in order for the BID to be set up.