Sheffield plastics fire investigation starts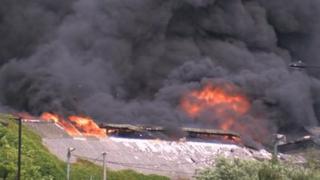 Investigations have begun to establish the cause of a huge factory fire in South Yorkshire.
The blaze destroyed a building containing about 20 tonnes of plastic at the Sheffield Reclaim Ltd plant, in Attercliffe, on Sunday afternoon.
The fire service said a dampening down operation was continuing with five firefighters still at the scene.
A spokesman said: "The focus is very much now on the fire investigation and to establish how it started."
At the height of the blaze, a plume of smoke was visible for at least 20 miles (32km).