Alan Greaves murder: Man tried to help beaten organist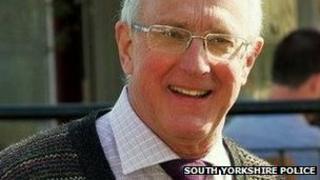 A takeaway delivery driver has told a court how he came to the aid of a man left lying on a pavement after he was beaten on Christmas Eve.
Mark Murphy said he found church organist Alan Greaves in a pool of blood on 24 December.
The 68-year-old suffered "catastrophic" head injuries when he was attacked while walking to church in Sheffield.
Ashley Foster, 22, denies murder. Jonathan Bowling, also 22, has admitted killing Mr Greaves.
Prosecutor Robert Smith QC said Mr Greaves was attacked by Bowling and Mr Foster as he walked to Midnight Mass at St Saviour's Church in High Green to play the organ - something he had done for 40 years.
The barrister said he was hit with a pick-axe handle and another weapon, possibly a hammer.
Mr Greaves, who was also a lay preacher, died three days later in hospital.
'Nothing stolen'
Mr Murphy told the jury at Sheffield Crown Court that he was delivering takeaway food on the night when he spotted Mr Greaves.
He said: "He didn't say one word.
"I was asking him who he was, I was constantly talking to him."
Mr Murphy said it was difficult tending to him because he was flailing his arms around and resisting efforts to help him, probably due to his head injuries.
He added: "There was a lot of blood."
The court previously heard nothing was taken from Mr Greaves and Mr Smith said robbery did not appear to have been the motive for the attack.
Mr Foster, of Wesley Road, High Green, Sheffield, denies one count of murder.
The jury was told that Bowling, of Carwood Way, Pitsmoor, has already admitted murdering Mr Greaves.
The trial continues.