Sheffield MP Meg Munn told PM confident over city branding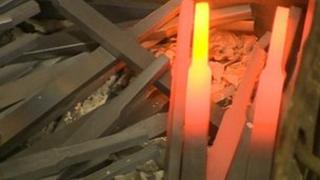 David Cameron has hinted the government might not abolish Sheffield as a protected business brand.
The government had wanted to free companies from having to seek approval for use of the city's name on products, as part of a drive to reduce red tape.
During prime minister's questions Labour MP Meg Munn said protection of the brand guaranteed the quality of goods.
Mr Cameron told the MP she "should have some confidence" over the issue.
Industrial base
Ms Munn also used the House of Commons session to question plans to move a territorial army regiment out of the city.
"What has this government got against the businesses and people of Sheffield?" she asked.
Mr Cameron told Ms Munn: "Sheffield is a fantastic city, a very important part of Britain's industrial base and I am proud of the fact that through the regional growth fund and other schemes we are investing in the future of Sheffield.
"On the issue of the reserves we are actually putting more money in to the reserves, an extra £1.5bn, to make sure we can get the reserves up to the level of strength that is needed for Force 2020."
Under Force 2020 the Army will see the number of regular soldiers fall from 102,000 to 82,000, while reservists will double to 30,000.
Mr Cameron added: "On the other issue [Sheffield branding] , I am reliably informed that you should have some confidence."