Barnsley Main colliery gets Grade II listed status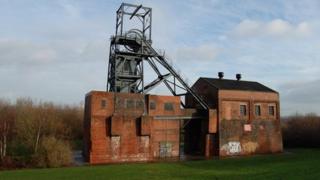 Barnsley Main colliery, the site of a mining disaster which left more than 360 dead, has been listed due to its historic significance.
The surviving engine house and the pithead structures at the disused colliery have been listed as Grade II.
Similar structures have all but disappeared following the decline of the industry during the 1980s.
Deep mining had taken place on the colliery site since late Georgian times.
In 1984, before the year-long miners' strike, there were 170 working collieries in Britain, employing more than 190,000 people.
Only three deep coal pits now remain in the UK.
Two explosions
Brian Elliot, author and mining historian, said: "After the miners' strike many sites were completely obliterated from the landscape.
"To have one part survive is important for future generations and marvellous news."
Dan Jarvis, Labour MP for Barnsley Central said: "I welcome this important recognition of the historical value of the Barnsley Main colliery at Hoyle Mill.
"I firmly believe that, by learning from our past, we can make informed, valuable decisions about our future".
The coal industry was of particular importance to Barnsley, and still has the headquarters of the National Union of Mineworkers.
The loss of 361 men and boys, some as young as 10 years old, was caused by two separate explosions on 13 December 1866 at Oaks colliery and is commemorated by a nearby memorial that is also listed.
Barnsley Main colliery eventually took over the workings of the Oaks colliery.
There were also disasters at the site in 1847 (73 deaths), and 1942 and 1947 (22 fatalities in total) said Mr Elliot.