'Abducted' Lorna Vickerage seen in Leicestershire and Watford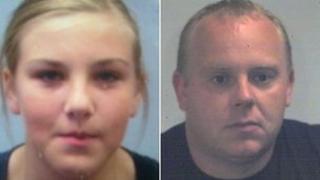 Detectives searching for a 14-year-old girl thought to have been abducted by a 35-year-old man are probing sightings in Leicestershire and Watford.
Lorna Vickerage, from Doncaster in South Yorkshire, is believed to be with convicted fraudster John Bush.
Detectives are forensically examining accommodation in Sproxton, near Melton Mowbray, and a car.
South Yorkshire Police is also investigating a sighting at a hotel in Watford, Hertfordshire.
Sightings of the couple in the Leicestershire village were reported on Thursday evening.
A silver Ford Mondeo they were thought to be travelling in was recovered at the same time.
Detectives believe the pair may have travelled to Melton Mowbray railway station, nine miles from Sproxton, and are working to establish if they bought tickets and boarded a train.
Police said the couple tried to check in to a hotel in Watford at 23:00 BST on Thursday night.
'Still wanted'
Det Ch Insp Craig Robinson, of South Yorkshire Police, said: "Fortunately, the card that Mr Bush tried to use was declined.
"It raised the suspicion of the management who put two and two together and quickly realised that these were the people that had been circulated across the country."
He said it was believed the couple had then gone to a neighbouring hotel and further inquiries were being made.
"We do need to make sure that everyone is still away that they are both still missing. John is still wanted and Lorna is still missing from home."
Lorna was last seen on Monday at Outwood Academy in Adwick.
Earlier Det Ch Insp Robinson told BBC Radio Sheffield he did not believe Lorna was in "immediate danger" and that she had gone with Mr Bush willingly.
The pair are thought to have known each other for a few weeks.
Speaking outside Doncaster Police station, Lorna's mother Christine Vickerage said: "John, if you are watching this please fetch our Lorna home please.
"Lorna, you're not in any trouble just come home sweetheart."
The teenager's grandmother Diane said: "Being a family man yourself you can see how much heartache you've caused the family. Please fetch her home.
"Lorna, we love you very much and we're missing you.
"We're here for you and you're not in any trouble. We love you and we just want you to come home."
Foster care
Lorna is described as white, slim, about 5ft 4in tall with long, straight, thick blonde hair.
She was last seen wearing dark skinny jeans and a grey top.
Police said Lorna was "quite vulnerable" and was placed in foster care last Friday.
Mr Bush is described as white and stocky with receding dark blonde hair. He drives a silver Ford Mondeo, registration Y753CSH.
South Yorkshire Police said another 35-year-old man, from Askern, in Doncaster, had been arrested on suspicion of child abduction and remained in police custody.
Anyone with information about the pair's whereabouts is urged to call 101.