Sheffield Cathedral begins search for missing coffins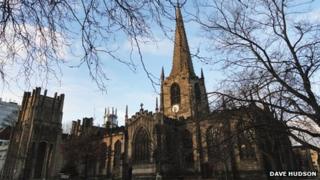 Academics have been called in to help solve a 200-year-old mystery surrounding 15 coffins missing from beneath Sheffield Cathedral.
Intrigue as to the location of the coffins, not seen since at least 1809, was reignited after builders uncovered a 475-year-old burial vault.
Only two coffins are left in the crypt built for the Earls of Shrewsbury.
University of Sheffield experts will now work with the cathedral to try to uncover the location of the other 15.
The vault beneath the the 500-year-old Shrewsbury Chapel was uncovered as part of a £1.3m refurbishment of the cathedral.
Peter Bradley, Dean of Sheffield, said: "We will be working closely with our partners at Sheffield University to solve this mystery as one of the missing bodies belongs to one of the most important men in Elizabethan England, George Talbot the 6th Earl of Shrewsbury who was the husband of Bess of Hardwick and custodian of Mary Queen of Scots during her 14 years imprisonment in Sheffield."
'Very moving'
Records show that seventeen members of the Shrewsbury family were buried in the vault between 1538 and 1787.
But, when the crypt was last inspected only the coffins of Gilbert, the 7th Earl who died in 1616 and Henry Howard, 1787 were found.
Canon Simon Cowling said: "We are not entirely sure when the last person went down. We do know that Joseph Hunter went down in 1809 - and we think he was the last.
"It was very moving to go down and see what was down there. You felt that you were in touch with history in a kind of tangible way."